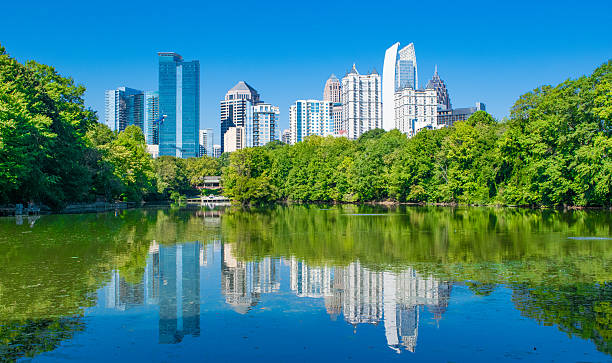 There's no denying that Atlanta is a great place to live. The city has a lot to offer in terms of amenities, job opportunities, and quality of life. Atlanta has recently been named the best city in the United States for young professionals by Forbes magazine.
One thing that makes Atlanta such a great place to live is its diversity. The city is home to people from all over the world, and this diversity is reflected in the city's food, culture, and attractions. You can find anything you're looking for in Atlanta, whether fine dining, nightlife, or outdoor activities.
Another great thing about Atlanta is its job market. The city is home to major corporations, with plenty of employment opportunities. Atlanta is definitely worth considering if you're looking for a vibrant, livable city with plenty to do.
However, the cost of living in Atlanta has increased drastically compared to other U.S. states in recent years. Consequently, many people are leaving Atlanta in search of more affordable cities.
Rising Rents in Metro Atlanta
Renters in Atlanta have been hit hard by rising inflation and rents. Without any form of rent control, landlords are free to charge whatever they want, making it difficult for many people to keep up with payments.
The Atlanta Regional Commission has identified housing as a top regional issue and is working on a strategy to help local governments address the problem. In the meantime, they are also tracking eviction filings to understand the situation better.
According to their data, there were over 18,000 eviction filings in Fulton County in 2021. This is a 14% increase from the previous year. Most of these filings were for non-payment of rent, with most of the remainder for lease violations.
While the number of eviction filings has increased, it's important to note that not all of them result in an eviction. In many cases, the landlord and tenant can reach an agreement before court. However, even if an eviction is not carried out, the filing itself can have a negative impact on the tenant's credit score and make it more difficult to find future housing.
The high cost of housing is not just a problem for renters. Homeowners also feel the squeeze as property taxes and mortgage rates continue to rise. According to Zillow, the median home value in Atlanta is now over $270,000, an increase of nearly 8% from last year.
With incomes not keeping up with these rising costs, many people struggle to make ends meet. This is likely one of the factors driving the increase in evictions. Landlords are under no obligation to offer payment plans or work with tenants who are behind on their rent, so some may see eviction as the only way to recoup their losses.
The Atlanta Regional Commission is working on a regional housing strategy that will address the issue of affordability. In the meantime, they are urging local governments to enact policies that will help protect tenants from eviction. These could include things like rent control or just-cause eviction laws.
Average Rent in Atlanta
Many factors decide on rent in Atlanta. Some factors are the number of bedrooms, the proximity to public transportation, and the unit size.
The average rent for a single-bedroom apartment in Atlanta is $1,521. The average rent for a two-bedroom apartment is $1,674. And the average rent for a three-bedroom apartment is $1,753.
The average rent in Atlanta has increased in the last few years. In 2019, the average rent for a single-bedroom apartment was $1,471. And in 2020, the average rent for a one-bedroom apartment increased to $1,490.
There are many reasons why the average rent in Atlanta has increased. Some of the reasons are the increasing population in Atlanta, the influx of new businesses and jobs in Atlanta, and the limited supply of housing units.
How Much Should You Earn to Live in Atlanta?
If you want to keep your rent payment at a reasonable amount, most financial advisors recommend keeping it at 30 percent of your gross income or less. In Atlanta, you would need to make at least $66,200 annually to afford a one-bedroom apartment on average.
The average cost for a one-bedroom apartment in Atlanta is $1,521 per month. For perspective, the average annual income for residents in Atlanta is around $69,000.
If you're curious about how your budget would change after moving to Atlanta, a rent calculator can give you a better idea.
Taxes in Atlanta
The sales tax rate is 8.7 percent in Atlanta. This includes a 7 percent sales tax for DeKalb and Fulton counties and an additional 1.90 percent sales tax for the city of Atlanta.
So, if you spend $100 shopping at Ponce City Market, you would pay $8.90 in sales taxes. Georgia has two annual sales tax holidays, including a back-to-school event. Grocery items are not taxed in Georgia.
However, prepared food, alcoholic beverages, dietary supplements, drugs, over-the-counter drugs, and tobacco all require taxes to be applied to purchases of these items. The state's income tax rate is 5.75 percent for the highest bracket.
5 Tips to Find Cheap Housing in Atlanta
Nearly 40% of Atlanta's population earns an annual income of less than $35,000, making it difficult for them to find affordable housing. Affordable housing is a dwelling that a household can get for 30% or less of its income.
For example, if someone makes $30,000 annually, 30% of that would be $9,000. If you divide $9,000 by twelve, that equals $750, which is the most that person should spend per month on housing. Any amount over $750 means that housing isn't affordable for them.
So you must find cheap housing in Atlanta. Here are a few helpful tips that you can consider to find Affordable Housing Options in Atlanta;
Use a Housing Voucher
You may qualify for Help from the government to pay your rent if you have a low income. The Atlanta Housing Authority (AHA) administers the Housing Choice Voucher Program, also known as Section 8. If you qualify, AHA will give you a voucher that you can use to help pay rent at a participating property. You can search for participating properties on AHA's website.
Look for income-restricted Housing
There are income restrictions on some apartments and houses in Atlanta. That means that the owner of the property has agreed to only rent to people who make below a certain amount of money. You can find these low rental properties by searching for "income-restricted housing" or "affordable housing" on websites like Zillow, Apartments.com, or Rent.com.
Get Help from a Housing Counselor
If you're struggling to find affordable housing, you may want help from a housing counselor. A housing counselor can help you understand your options and find resources to help you pay for housing. You can find a list of housing counselors on the U.S. Department of Housing and Urban Development's (HUD) website.
Look for Senior Housing
If you're a senior citizen, you may be able to find affordable housing through a program specifically for seniors. The Atlanta Area Agency on Aging offers a program called "Senior Living Options" that can help you find affordable senior housing in the Atlanta area.
Consider a Roommate
If you're struggling to afford rent on your own, you may want to consider getting a roommate. Having a roommate can help split the cost of rent and other expenses, making it more affordable for both of you. You can find potential roommates on websites like Craigslist or Roommates.com.
Keep in mind that finding affordable housing in Atlanta can be a challenge. But if you're willing to be creative and do some research, you should be able to find a place that fits your budget.
Conclusion
Rising rentals in Atlanta are becoming a problem for many residents. This is quite difficult for those who are on a fixed income or who have low-paying jobs. The situation is only getting worse as more people move to Atlanta for work or school.
There are some steps that can be taken to ease the burden of rising rental prices, such as increasing funding for affordable housing initiatives or providing incentives for landlords to keep rents reasonable.
However, unless something is done to address the root causes of the problem, rising rentals will continue to be a major issue in Atlanta.